Daniel Libeskind: deconstructing form to create the (green) city of tomorrow

Twenty-four years passed between 1990, when Daniel Libeskind's project was selected for the new Jewish Museum in Berlin, and the 2014 inauguration of One World Trade Center, the first site to be completed from Libeskind's Masterplan. The period has seen the architect, who even back then – at the age of 40 – already boasted the vision, talent and roving curiosity that would later make Studio Libeskind such a success, realise his full potential.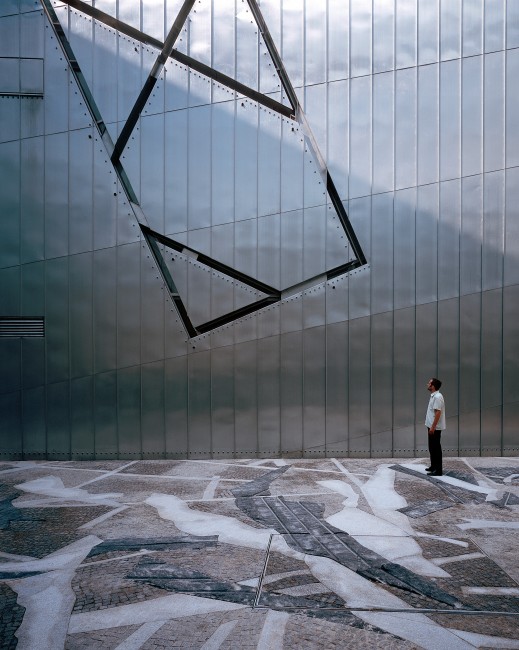 Born in 1946, the promising young Daniel Libeskind – an American of Polish-Jewish origin – was passionate about music. In 1960, he was awarded a scholarship that saw him realise a dream: to move to New York. There, in Lower Manhattan, where his father worked, he witnessed the construction of the original World Trade Center.
Some time later, there in the cradle of the American dream, he studied architecture at the Cooper Union for the Advancement of Science and Art, a university that supports deserving students with restricted economic resources. After obtaining his degree, he continued his studies with a Master's degree in History and Theory of Architecture at the University of Essex, under the guidance of renowned architect Peter Eisenman.
It was in 1978 that two things that would have such a large bearing on his life – deconstructivism and Berlin – came together. Daniel Libeskind took part in a contest for the regeneration of an abandoned area of the Potsdamer Güterbahnhof railway station in the German city. It was the first time that Libeskind had designed a building that subverted the classic rules of geometry. Despite the success, it was only ten years later that he became a fully paid-up member of the deconstructivist movement, alongside six other top well-known architects, as he took part in the Deconstructivist Architecture Exhibition at the Museum of Modern Art in New York.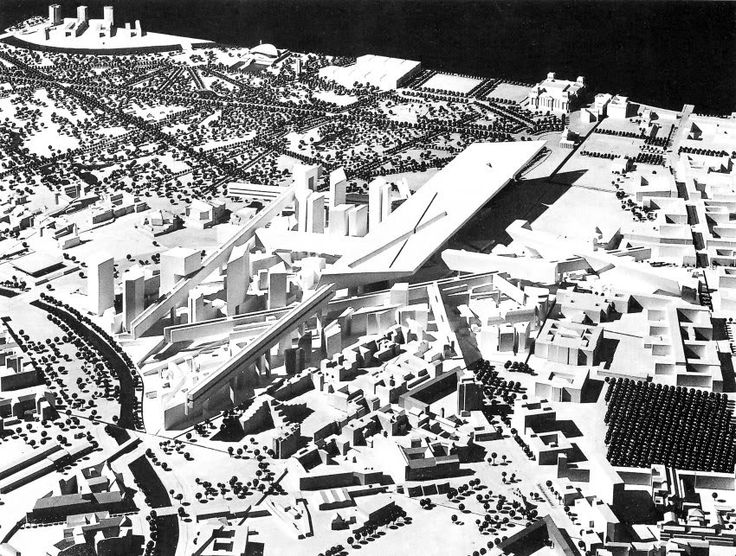 Libeskind's work has always surprised for being non-architectural architecture, which creates what at first glance seems impossible. Flat surfaces, axes, structures and rational architectural detailing are put to one side; in their place are the sculptural qualities of deformed volumes, the new dialectics and juxtaposition of interior and exterior, order and chaos, twisted, disjointed lines, cuts, fragments and asymmetry that open up a host of new possibilities, lying just beyond the rigid, traditional rulebook, waiting for somebody to find and implement them.
A host of projects followed for the American architect: from Folly Pavilion in Osaka (Expo '90) to the new urban plan for Groningen and Alexanderplatz in Berlin, via other German projects in the shape of the Felix Nussbaum Museum in Osnabrück, the Bremen Philharmonic Hall and, most recently, the Jewish Museum in Berlin, which cemented his place in the pantheon of world-renowned architects.
Studio Libeskind was also behind the renovation of the Imperial War Museum North, in Trafford, Greater Manchester, England. Libeskind's designed featured three interlocking shards – to represent the war on the ground, in the air and out at sea – while the internal spaces were made in a geometrically complex manner in order to convey the disorientating effect of any war. Other Libeskind projects include the Creative Media Centre in Hong Kong and the Military History Museum in Dresden in 2002, followed by the London Metropolitan University Graduate Centre in 2004 and the Masterplan for the New World Trade Center – almost signifying the end of a cycle that started with adolescent potential and culminated in a coming of age.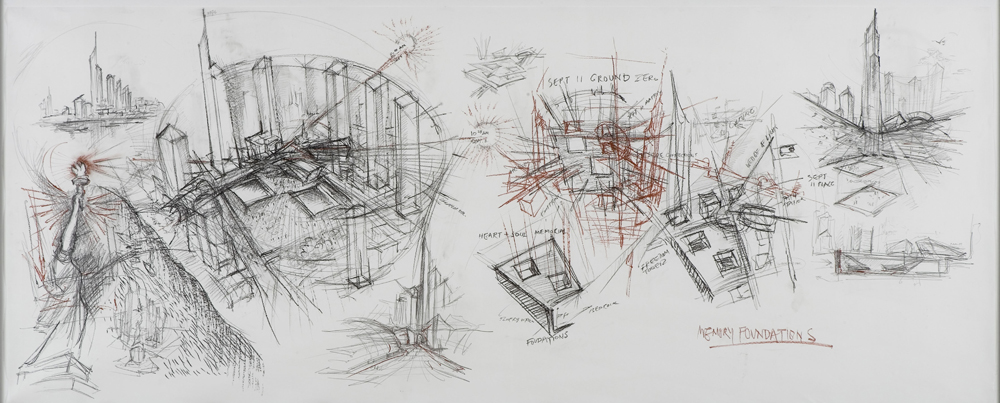 Of course, the metaphorical return to New York did not signify the end of Libeskind's career; his studio has produced a huge number of works, from enormous shopping centres like Westside Shopping and Leisure Centre in Bern to residential projects including CityLife in Milan.
Indeed, Milan – and Italy in general – is one of the locations that make up an important part of the American architect's story. In 1985, Libeskind founded the experimental, non-profit learning forum, the Architecture Intermundium, and he would return in 2012 to open a studio – run by his son Lev – which shows clear traces of Libeskind's multi-faceted passion and vision of architecture as a multi-disciplinary science: it is not just architects that help design buildings, products and interiors, but other professionals too. It is certainly no over-exaggeration to draw parallels between Libeskind's love of culture – music, philosophy, literature, design as well as costumes and theatre scenery – and the creative spark that has always characterised the Made in Italy brand. 
In Milan, the host city of Expo 2015, the Libeskind Residences form part of the CityLife project alongside other works by Zaha Hadid and Arata Isozaki, appearing as an archipelago between past and present, future and surroundings. The eight buildings – the first five of which were constructed in 2013 – maximise exposure to natural light with their gentle curves and surround the central courtyard as if embracing it. The courtyard is a green space that takes its inspiration from the Lombard courtyards of the 1900s, which were places of meeting, of exchange, of solidarity among neighbours, inhabitants of a common space. They cease to be areas for merely passing through, instead becoming forums for relationships.
Another of the key themes behind the Libeskind Residences is environmental sustainability: included are integrated home automation systems to regulate energy usage, quality construction solutions, solar panels and a sophisticated cladding system. Casalgrande Padana was the supplier of ceramic tiles for the facades, producing 50,000m2 of porcelain stoneware that was specifically designed for the project in order to add sustainability and safety to the dynamism of the Libeskind brand. The project gave rise to two ranges: the Granitoker Line – Travertino Paradiso Grigio M8 series, and the Granitogres Line – Unicolore Bianco B Levigato series. On first look the tiles look like travertine, but in reality they are made from reinforced, self-cleaning porcelain, to ensure the gleaming pristineness that buildings have when they are first inaugurated.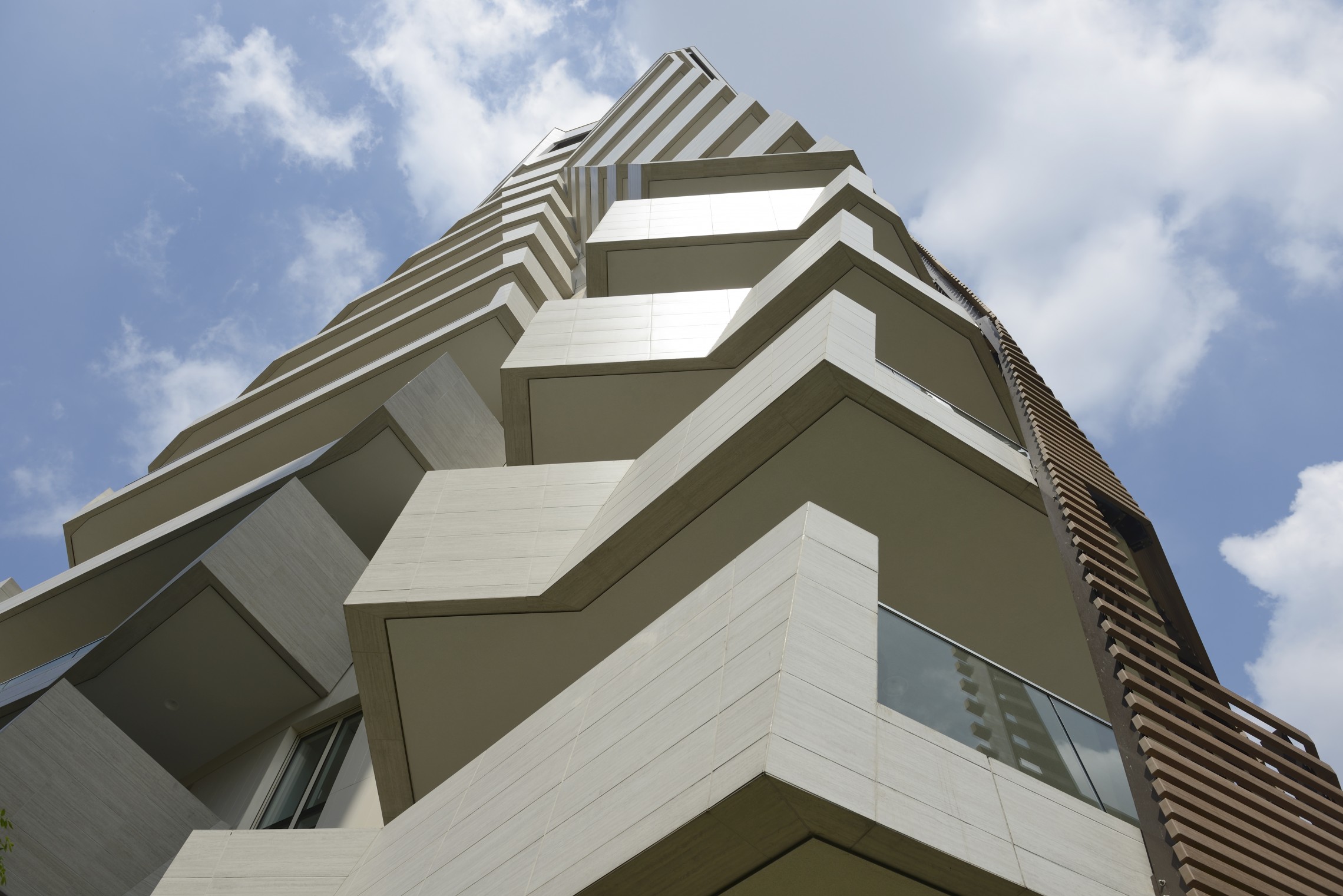 Como, Milan, Bologna and Padua are just a few of the cities that bear – or will bear – the Libeskind mark. We've already featured some such projects: the Pinnacle installation in Bologna, designed to celebrate the ceramic manufacturing traditions of Emilia-Romagna; the Casalgrande Ceramic Crown, "A microcosm – an open, variable structure. Like a real crown or diamond, when you look at it, it glints, and when you move around it, it continues to shine, gleaming from all sides." (Daniel Libeskind) and the Vanke Pavilion in Milan for Expo 2015. All of these projects were brought to fruition with the help of Casalgrande Padana's expertise and the imaginative Fractile range of ceramic tiles oozing expressive character with their geometric design and surprising eco-sustainable properties.
Indeed, environmental sustainability seems to be the direction the American architect wishes to pursue, as he explained in a recent interview (La Stampa, 19/01/2016):
"[Technology] is "mental technology", thinking more liberally, putting your roots down; In his Green Metropolis book, American theorist David Owen writes that cities like Manhattan and Hong Kong are actually greener than less densely populated places because higher percentages of people move around on foot, by bike or using public transport. They share services in a more efficient manner, live in smaller spaces and consume less energy to heat their homes. Cities can help us to be free."
These sentiments provide the backdrop to new Studio Libeskind projects: whole neighbourhoods designed to be Smart Cities, featuring a complex system of green spaces, public transport and functional living and shared spaces that interact and interlink. Archipelago 21 in Seoul, the New World Trade Center and CityLife in Milan are the precursors for the environmentally sustainable lifestyle of the near future, one that marries technology with tradition, necessity with curiosity, order with chaos. So we can be free and outward-facing, yet firmly grounded within our natural surroundings. Like a Libeskind tower.